Moderators: Sparky, maxlords, machine.slave, Doc Kaos, mark, omnedon
SUPREME VIDIOT

Posts: 11189
Joined: Fri Dec 14, 2012 10:43 pm
Location: Cambridge, Ontario
Contact:
Donkey Kong, Burgertime, Galaga, Pac-man, Ms.Pac-man, Missile Command, Robotron, Dig Dug, Space Invaders, Arkanoid, Class of '81, Raiden, Tetris
http://goo.gl/UW7e9L
---
Who cares if she is Spanish?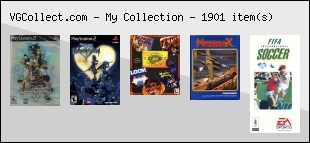 ---
Canadian Club

Posts: 1670
Joined: Thu Apr 16, 2009 8:48 am
Location: Brampton, Jewel of the Golden Horseshoe
That was nice.

I refused Skyrim. Oblivion took me in WAYYY too much. I did EVERYTHING. Had to go Elder Scrolls cold-turkey. phew.
---
---
Return to "Anything Gaming Goes"
Who is online
Users browsing this forum: No registered users and 12 guests